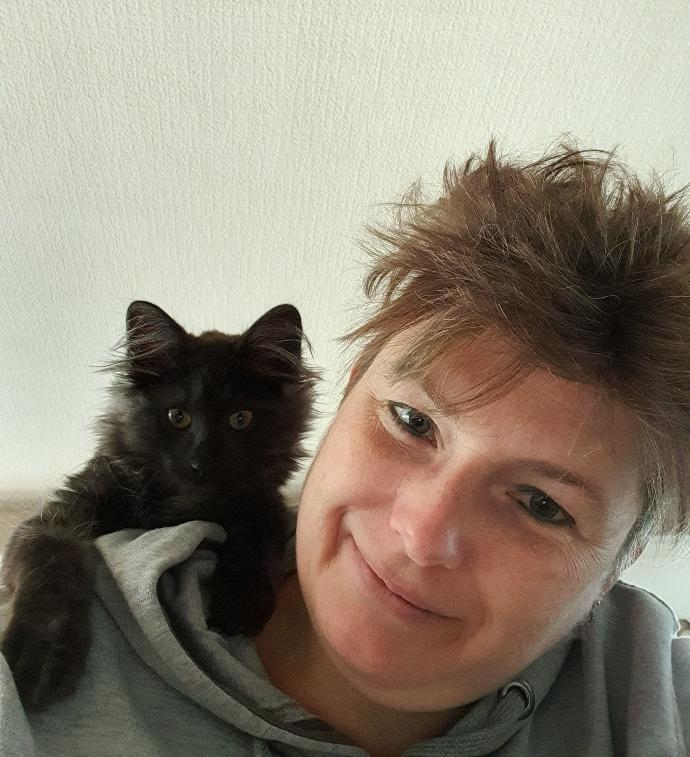 Presentation:
My name is Evelyne Hanf, I live in Belgium in Malmedy, a small country town in the province of Liège near the German and Luxembourg borders.

Agreement number: HK02601004
From a very young age, I have always been attracted to animals in general. In 2006, I adopted Chaussette, a male European kitten thrown out of a car in front of my house, and a few months later I fell in love with a little female British Shorthair, Milady.
At the time, I didn't know much about cats. I started to take an interest in breeding, I visited several breeders, I inquired about exhibitions etc... and I quickly realized that my little British would never be a breeder. So I decided to have her sterilized and for various personal reasons, I put my breeding ideas on hold.
A few years later, I met a ragdoll breeder who has since become one of my closest friends and introduced me to the life of a cat breeder. At the beginning, I thought of raising ragdolls like her, it was easier for the research of lines, males, etc... but this breed did not suit me 100%. I continued my research, I hesitated between several breeds and the choice of the Norwegian became obvious to me. I chose it, among other things, for its character, its sociability with humans but also with dogs, its large size, its beautiful head, its presence, as well as for the purity of the breed and its natural origins.
More precise research could begin. At the same time, I also took the steps to obtain my breeder license. One day I came across a photo of a tiny kitten. I started to follow her evolution, something in her called me, and I finally decided to contact her breeder.
On October 30, 2021, I picked up my little protegee, Spinelle des Trois Joyaux, a Norwegian black smoke female. She came to join Chaussette and Milady who had been living with me for 15 years, as well as Bella, my 5-year-old Cane corso cross dog. Milady sadly left us in January 2022 at the dawn of her 16th birthday and Chaussette left us on June 14, 2023 at the age of 17. We live in a single family house with a big garden, but I don't let my cats go outside. This year, the terrace has been transformed into a secure patio, so that we can all enjoy the outdoors together.
I chose my affix "cailloux enchantés" (enchanted pebbles) because I am very interested in lithotherapy, energetic treatments and the world of magic. My "pebbles" are everywhere in the house and on me, it was inevitable that they were also part of the cattery.
My animals are an important part of my life, without them I wouldn't be the same person and I couldn't have weathered the storms of life. They have always been there in good and bad times.
Animals each in their own way take part of our burdens, our worries, our illnesses and our moods to allow us to move forward in life, to heal, to overcome difficulties. They lead us to people who are good for us. We must respect them for this, protect them, cherish them and be present for them at all times of their lives.